Why join a clinical trial?
Get early access to new medicines
Clinical trials offer more care options for people suffering from common, unique, and rare health conditions - most often at no cost.
Access to leading physicians
Experienced local physicians who serve as principal investigators, and their highly trained research teams, provide study-related medical exams and care at no cost to participants.
Learn about new medicines in development
The informed consent process allows participants to learn all about the study they choose to participate in, including what's involved in the study, the need for the particular treatment, what happened in prior phases of the study, the goals of this phase, and more.
Help move science forward and improve quality of life
Clinical studies offer a way for almost anyone — regardless of their background — to help improve human health and wellbeing for generations to come.
Receive compensation if you qualify
Most research studies offer payment for time and travel. The amount paid for participating differs among studies and depends on complexity, length of the trial, number of visits, and other factors.
Velocity Participant Stories
Velocity shares participant stories to celebrate people like you, who are making the future of medicine possible.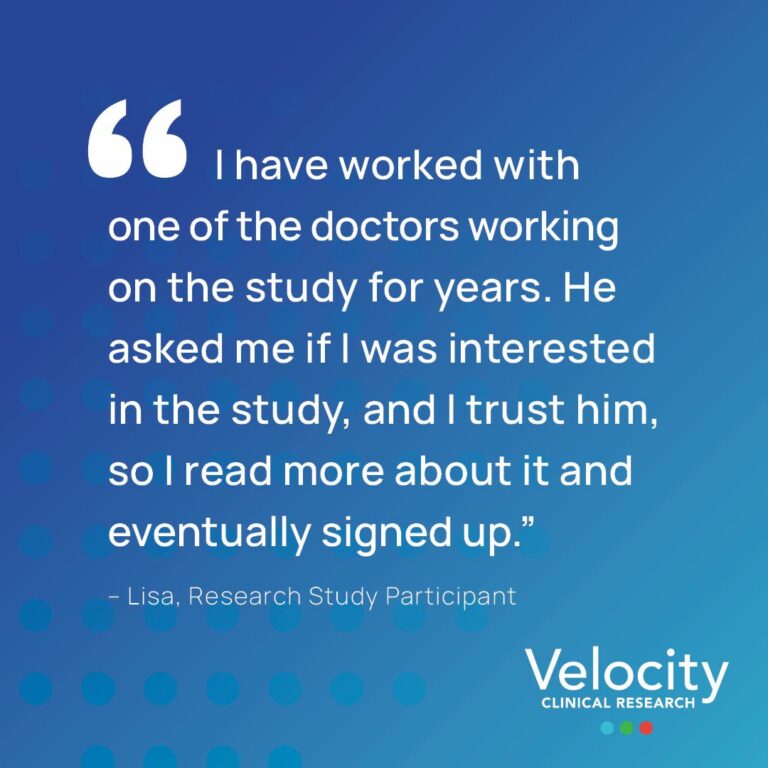 How did you first hear about Velocity? I have worked with one of the doctors working on the study, Dr. Meyer, for years. He asked me if I was interested … Read more