Hallandale Beach, Florida
Velocity Clinical Research, Hallandale Beach
Velocity's Hallandale Beach research site was founded in 2005 as MD Clinical by two board-certified neurologists, Dr. Beth Safirstein and Dr. Kerri Wilks, and acquired by Velocity in 2018. The center focuses on clinical trials for neurology and psychiatry indications, including Alzheimer's Disease and other memory impairment conditions, major and bipolar depression, Parkinson's Disease, and migraine. A wide range of Sleep Disorder studies, including primary insomnia and Circadian Rhythm Disorders are conducted in our fully equipped Sleep Laboratory. In addition, the Hallandale Beach site has a dedicated and secured Phase I Unit.
Our bi-lingual research team recruits and enrolls large numbers of Latinx study participants. By developing positive relationships and understanding family interactions in this demographic, Hallandale Beach more easily recruits elderly and other sub-populations of participants. Accessible to several major highways, this ADA compliant facility serves Miami and other South Florida areas. With more than 9500 square-feet of dedicated research space, they can efficiently and effectively conduct multiple concurrent studies.
All trials conducted at the site are performed in accordance with ICH and FDA guidelines, and in compliance with GCP. The Hallandale Beach team is committed to being a resource for study participants, to providing the highest quality of patient care with compassion and kindness, and to advancing medicine through research.
Velocity Clinical Research, Hallandale Beach
911 E Hallandale Beach Blvd, Hallandale Beach, FL 33009
Phone: (954) 455-5757
Se habla español.
Email: info@velocityclinical.com
Find a Clinical Trial in Hallandale Beach
Sign up below to speak with an enrollment specialist about available research studies in Hallandale Beach.
Follow Velocity on Facebook for company updates and more.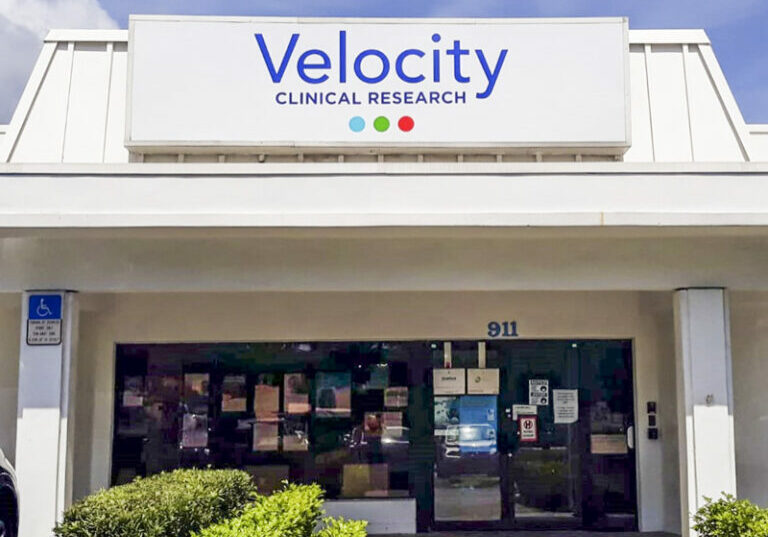 Our experienced research team in Hallandale Beach
Every clinical trial is overseen by a Principal Investigator – a physician who is responsible for the rights, safety and welfare of the study participants. All physicians at Velocity are board certified in their specialty area(s) and all research staff is trained in clinical research regulations, including GCP and HIPAA. Our clinical research team in Hallandale Beach is dedicated to conducting quality research in a professional and caring environment.
Site Director
Yean Alfonso, BS, CCRC joined Velocity in 2010 as a data entry operator, then moved to the position of recruiter and administrator. Yean's dedication and contributions to site operations have made his tenure as Site Director for Velocity Hallandale Beach a success. He is excellent at maintaining long-lasting professional relationships with returning patients and vendors by always providing focused customer service and support. Yean's background as an Industrial Engineer gives him a unique perspective on operational challenges. He is fluent in both Spanish and English and uses this skill to engage prospective and participating volunteers. He provides an open-door policy for everyone; employees are encouraged to stop by whenever they feel the need to meet and ask questions, discuss suggestions, and address problems or concerns at any time. He recognizes all team members for a job well done and acknowledges that without our great staff and volunteers we would not have achieved the great success of our site. On his days off, Yean loves to play video games and lounge around his house. Unfortunately, his wife disagrees with how he spends his leisure time and forces him to go shopping instead. Through all the obstacles that will come ahead he will remain focused and maintain a comfortable work environment that will be efficient and reliable.
Complete the form to start your clinical trial journey in Hallandale Beach
Beyond helping advance medicine, you may also:
Get care from a local doctor at no cost
Learn about new medicines in development
Receive study-related medical exams at no cost
Get paid for participating (amounts differ for each study)
After you submit your info, a Velocity staff member will review your info. They will contact you to talk about the study, or others that may be right for you.
Health insurance is generally not needed to join a clinical trial.
Remember, there is never an obligation to join — we're here to help you make the best decision.
From the leading pharma companies, to the most pioneering biotech startups, Velocity supports those who are exploring new frontiers in human health. Whether you're ready to conduct a single-site study or a complex, high-volume clinical trial, trust Velocity.